Det er mange organismer som er satt sammen av geometriske former, og de fleste av dem kan også beskrives matematisk. En av de mest spennende formene som går igjen, er den elegante spiralen.
To spiralretninger
Tar du opp ei furukongle, vil du fort se at den består av spiraler. Holder du den med stilken mot deg, ser du en spiral som buer seg fra sentrum og ut til høyre, mens en annen bøyer av mot venstre. Men de to spiralretningene er ikke symmetriske. Den til høyre har en flatere bane og består ofte av 8 spiraler. Venstrespiralen stiger brattere og har 13 spiraler. Mindre kongler kan være bygd opp av henholdsvis 8 og 5 spiraler.
Akkurat som frøene i en solsikke vokser konglefrøene på denne måten for å kunne sitte så tett som overhode mulig. Dette taksteinmønsteret er en rasjonell oppbygging, som gir plass til flest mulig frø på minst mulig plass.
Fibonacci
Tallene som er beskrevet om antall spiraler i furukonglene er en del av Fibonacci- tallrekka. Disse tallene som kan beskrive mange former og fenomener i naturen, framkommer ved at hvert tall i rekka er summen av de to foregående; 1, 1, 2, 3, 5, 8, 13, 21, 34, 55 og så videre.
Sneglehus er et annet nærliggende eksempel på naturens mange spiralformer. De er bygd opp av tredimensjonale spiraler som kalles heliks, som er det latinske ordet for snegle. Også mange skjell danner spiralformer.
Blekkspruten nautilus har et perfekt tilpasset sneglehus som vokser i takt med at blekkspruten blir større. Avstanden mellom spiralsløyfene øker i forhold til Fibonaccis tallrekke.


Akkurat som for kongler, er det lett å kjenne igjen spiralformene i ananas, både i selve frukta og i de grønne bladene. Også i blomster som tistler og tusenfryd, gjenkjenner vi det samme mønsteret. Hornene til fjellgeiter er også vridd som en spiral. Og alle har sett edderkoppens imponerende fangstnett.
Nyere forskning har også vist at DNA-molekylet, som hjemmer våre arveanlegg, har form som en heliksspiral.
Spiralgalakser
Men det er ikke bare detaljer og mindre former i naturen som er bygd opp etter spiralprinsippet. Også stjernene danner enorme spiraltåker. Disse galaksene kan sees som spiralarmer av støv, gass og unge stjerner. Vårt melkevegsystem er en slik spiralgalakse.
Via maththinker.wordpress.com
Via originalbeauty.wordpress.com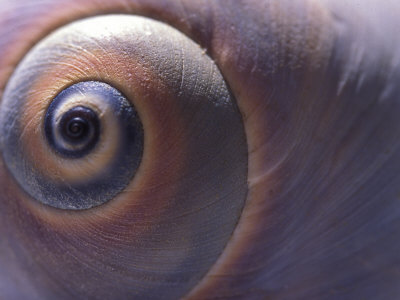 Via allposters,com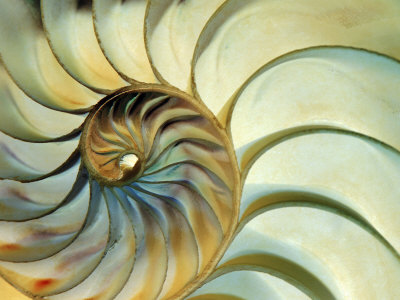 Via allposters.com
Via allposters.com
Via allposters.com
via darkroastedblend.com
Via flickr/catticamehome